Russia should lose place on UN Security Council – Taoiseach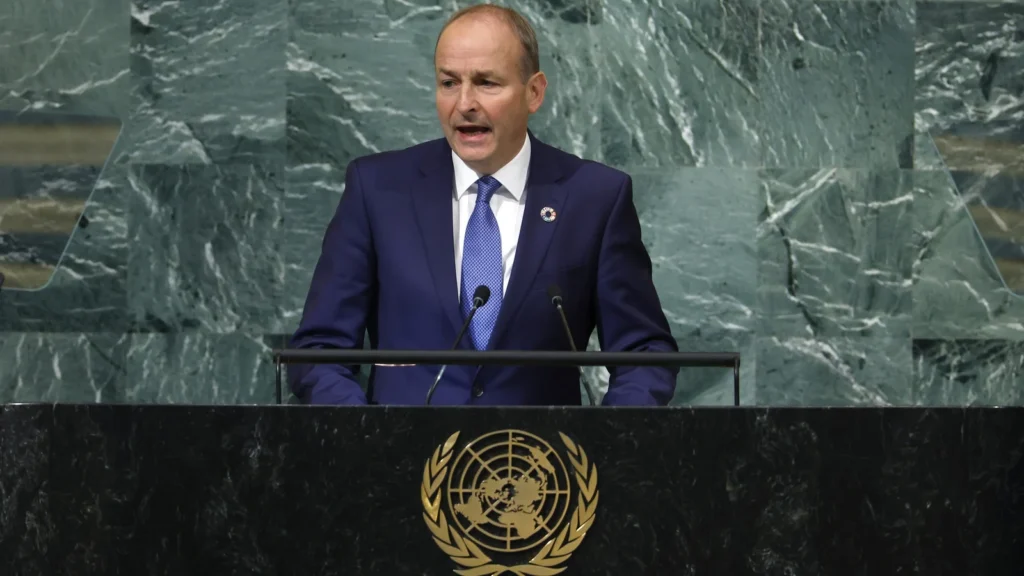 Russia should lose its place on the UN Security Council due to its invasion of Ukraine, the Taoiseach has said.
Speaking to journalists in New York during UN high level week, Micheál Martin said Russia's conduct could not be reconciled with its place on the UN Security Council, which is dedicated to the preservation of peace and prevention of war.
He said the role of Russia as a permanent member of the Security Council was fundamentally called into question.
The Taoiseach was particularly critical of the way the war has been fought by Russia, which he said clearly violated "all known conventions" including military conventions on the conduct of warfare.
"There's a huge irreconcilability between Russia being a member of the Security Council of the United Nations, – which is about peace and unity – and waging a war of this kind," he said.
His remarks followed a strongly worded statement to the UNGA last night, in which he said Russia had behaved like a "rogue state" in its conduct towards Ukraine and in its role in disrupting UN resolutions.
In his speech last night, Mr Martin said the discovery of mass civilian graves, targeting of nuclear facilities and civilian infrastructure along with President Vladimir Putin's plan for "sham referenda in eastern Ukraine" show Russia behaving as a rogue state.
"In Ukraine in July, I heard first-hand accounts from civilians of the brutality and violence visited upon men, women and children by occupying Russian forces.
"And where Russia's forces have been pushed back, we have seen the wanton destruction, and the uncovering of mass civilian graves, such as in Bucha and more recently in Izium.
"We have seen the targeting of nuclear facilities and of civilian infrastructure.
"And now we see President Putin plan sham referenda in eastern Ukraine, aimed at forcibly changing Ukraine's borders, in clear violation of the UN Charter.
"We have to name what we are seeing. These actions, taken collectively, show Russia behaving as a rogue state," Mr Martin said.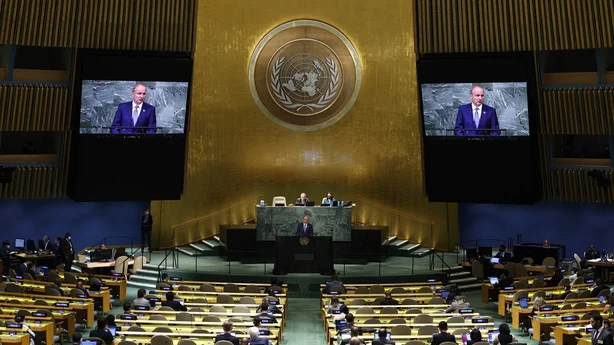 "We faced this many times in Europe in the 20th century. We did not think we would face it again in the 21st century."
Mr Martin said that this "is not just a European issue" and "not just a concern for the West".
He said that all states, particularly small countries like Ireland "should fear a world where might equals right, where the strong can bully the weak; where sovereignty and territorial integrity can be blatantly violated; and where the UN Charter – the Charter that all of us in this Assembly have faithfully put our trust in – can be flouted with impunity".
In a statement this evening, the Ambassador of Russia to Ireland Yuriy Filatov described the Taoiseach's remarks as "regrettable," while defending the so-called referendums taking place in certain Russian-controlled areas of Ukraine over the next few days.
---
This was an unusually strong speech by an Irish leader to the General Assembly.
The Taoiseach branded Russia a rogue state over its invasion of Ukraine, its aggression against civilians and attacks on nuclear power stations.
He began his speech by noting the 100thanniversary of Irish statehood, then outlined the issues Ireland has worked on during its time as a member of the UN Security Council.
But the recurrent theme of the speech was unflinching criticism of one country – Russia.
He accused Russia, not just of invading Ukraine, but of blocking a range of measures in the Security Council, on which Ireland is currently serving as an elected member for a two-year term.
He accused Russia of blocking a review of the nuclear non-proliferation treaty, weakening efforts to contain the spread of nuclear weapons.
And he was scathing of Russia's use of the veto to block a measure co-sponsored by Ireland and Niger to enhance UN efforts to combat insecurity caused by climate change. 113 other states supported the measure.
"113 countries – 113 of the members of this assembly – supported us in our efforts. One country – Russia – vetoed these efforts."
It was a hard hitting speech.
---
Mr Martin also referred to the impact of the invasion reaching as far as the Horn of Africa in terms of food insecurity.
"Some of the countries which have been worst-affected by the current food insecurity crisis are those most reliant on imports of wheat from Russia and Ukraine," he said.
"Combined with the impact of climate change, and of conflict, severe drought and other extreme weather events, we face a crisis that needs urgent action."
Mr Martin described a "time of crisis", referring to the threat of widespread global hunger, food insecurity, devastating impacts of climate change and "blatant disregard for international law" and the UN Charter.
He went on to say that the gathering has the tools and systems to address these issues, and called for political will to implement treaties and charters that are agreed.
"When much of the progress that we were making towards achieving the Sustainable Development Goals has stalled or gone into reverse, as we grapple with the continued effects of the Covid pandemic," he said.
"We cannot continue to shelve or postpone or ignore our existential global challenges."