Preserving peace "number one priority" for US in Ireland – Neal
Preserving peace "number one priority" for US in Ireland – Neal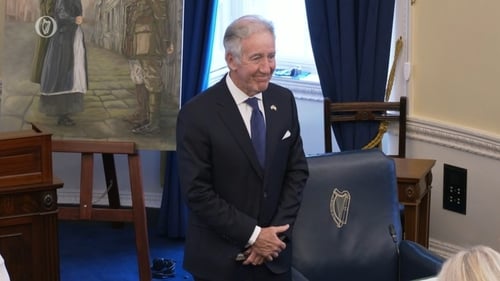 US Congressman Richard Neal, who is chair of the House of Representatives Ways and Means Committee, has told the Seanad that the "number one priority" for the United States on the island of Ireland is to ensure the hard-won peace in Northern Ireland is preserved and reinforced.
Mr Neal is heading a nine-strong team from the US House of Representatives' Ways and Means Committee, who are in Ireland on a four-day trade visit.
The powerful US House of Representatives Ways and Means Committee of which Mr Neal is chairman has the power to approve, or block, US trade deals.
The mission comes against a backdrop of increased concerns about the failure to revive the Northern Ireland political institutions, with the DUP refusing to get involved in that process until its concerns about the protocol are addressed.
US Congressman Richard Neal has said 'unilateral actions' are not solutions, referring to tensions over the NI Protocol. 'America will continue to nudge and nurture' the Good Friday Agreement, he said. | https://t.co/SJKkxs7VJ4 pic.twitter.com/dOiaTThqwH

— RTÉ News (@rtenews) May 24, 2022
The British government last week signalled its intention to override parts of the protocol.
In an address to the Seanad this evening, Mr Neal said his delegation had a message that was "firm, clear and unambiguous".
"The number one priority for the US on this island is to ensure that the hard-won peace in Northern Ireland is preserved and reinforced," he said.
Mr Neal said that in this "worrying and uncertain time", the delegation will travel to Belfast and meet with "all political parties".
The delegation is interested in "protecting the precious peace" in Ireland, he said, adding that he understands it well, having encouraged US President Bill Clinton "to take it up".
Richard Neal says generations of US leaders have stood by Ireland. 'Half our delegation are Republicans, the other half are Democrats – at a time when it's hard for us to find agreement on a lot of issues, we have found agreement as always on Ireland.' | https://t.co/SJKkxsq4Xc pic.twitter.com/ORi5OM2wXX

— RTÉ News (@rtenews) May 24, 2022
Mr Neal said Brexit poses "unprecedented challenges for the island of Ireland", and warned that "we're losing institutional memory in the UK".
"Any incautious move to undo the Protocol, would put at risk this durable agreement that we helped to create", he said.
"We need courage, dialogue and leadership from all sides", he added. "Everybody gave up something" to get to this point.
"America will continue to nudge and nurture this agreement", he said.
Mr Neal said that his delegation is bi-partisan, and at a time where there is limited common ground between Democrats and Republicans "we have found agreement, as always, on Ireland".
"Peace needs undying commitment and dedication", he said.
"Nobody wants to return to when a border control across the island divided its people", he said.
The Protocol is important and its implementation "must be the subject of a negotiated agreement and not unilateral action".
He added that "the legacy issue, as well, should not be allowed to get in the way of what those families need to know about what really happened".
"Those families need closure in their lives", he said, naming several cases, including the Finucane family.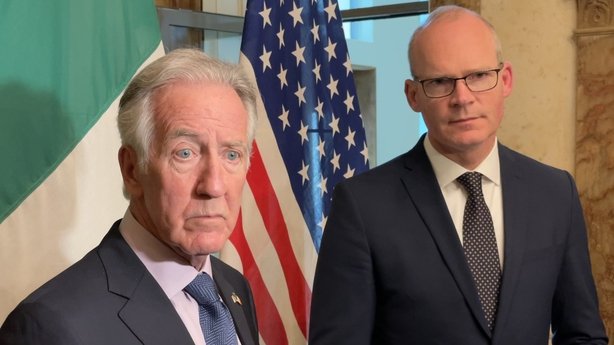 Ireland has an "unbreakable spirit marked by optimism", he said.
Earlier on, Mr Neal said he believed the problems with the Northern Ireland Protocol could be "ironed out quickly", adding the dispute appears "manufactured".
Speaking at the Department of Foreign Affairs after a meeting with Minister for Foreign Affairs Simon Coveney, Mr Neal said: "I hope this is not about domestic [UK] politics."
Mr Neal said: "The protocol dispute seems to me to be a manufactured issue," adding that the congressional delegation, who he asserted were "experts" at trade, believe "these issues on the trade front, if that's really the dispute, could be ironed out quickly".
He said he felt it was "now up to London to find a solution".
Mr Coveney said he believed that the EU can respond "in a significant way" to legitimate concerns in the unionist community through partnership, but added: "We need a partner, for partnership."
He said there is a risk the British government will impose a solution.
"I think that will cause a lot more problems than it will solve."
Mr Coveney said "the last thing" the Irish Government wants is for there to be tension between the UK and the EU, at a time when they should be "working together on much, much bigger issues, let's face it, in the context of war in Ukraine".
He said it was "hugely frustrating" that this row continued to linger.
Mr Neal said the Northern Ireland peace process is a "template for the world" and he could not understand how things could move backwards rather than be celebrated.
Leader of the Seanad, Fine Gael Senator Regina Doherty, said Mr Neal had demonstrated his comittment to maintaining peace in Ireland.
The legacy bill currently before Westminster "leaves its victims out in the cold", she said.
Sinn Féin Senator Niall Ó Donnghaile said that it is "cruel and unjust".
Deputy Leader of the Seanad, Fianna Fáil Senator Lisa Chambers, said that the British government "knew exactly what was being agreed to" when it signed up to the Protocol, and rejected the suggestion that "they signed up to it under duress".
Independent Senator Ronan Mullen said the delegation is serving the Irish agenda "nobly and well", but asked them also to consider the problems facing Ukraine, and poorer nations arising from grain shortages.
Green Party Senator Vincent P Martin said "we are down but are far from knock-out" in relation to the Protocol. "Irish America we need your help again", he said.